Social enterprise Energy4All, which helps communities develop renewable energy schemes, has announced that its four recent community share offers have raised over £5.5 million in investment.
This response shows continued public appetite and strong enthusiasm for community-owned renewable energy. It follows an announcement by the government in November which slashed the financial support available to these types of schemes, including reductions in the Feed-in Tariff (FiT) rate, and the removal of Social Investment Tax Relief (SITR) for community solar.
One of the schemes supported, a 500kW hydro scheme at Rumbling Bridge in Kinrossshire will be the largest community owned hydro scheme in the UK, while Edinburgh Solar, which is being championed by Edinburgh City's Co-operative Council, is one of the largest urban solar schemes in the UK.
Many of these existing schemes have been made possible by the previous package of support, which they will continue to benefit from. However, those still in the pipeline will have to contend with far lower levels of financial support, and may no longer be viable.
Given the commitments on climate change made at the Paris Agreement, and such clear public support, the government's decision to put the brakes on future projects is baffling. In a letter to the Shadow Chancellor,  Co-operative Party Parliamentary Chair Gavin Shuker warned that the changes represented a 'significant blow' to the sector. Research by Co-operatives UK  shows that potential member-owners may now be 40% less likely to invest.
In announcing the investment milestone, Mike Smyth, Chairman of Energy4All Ltd acknowledged the threats faced by the sector, saying:
 "Thanks to the previous system of pre-accreditation our current projects have the benefit of the higher rates of feed in tariff dating from last Autumn which means they are viable although margins are tight.  The new rates of feed in tariff and other changes to the scheme which the Government announced just before Christmas and the uncertainty of whether these rates will actually be obtainable in my opinion will prevent the typical school project from proceeding".
 Spread the word: tell the government to end its attack on community energy 
Case study: Edinburgh Solar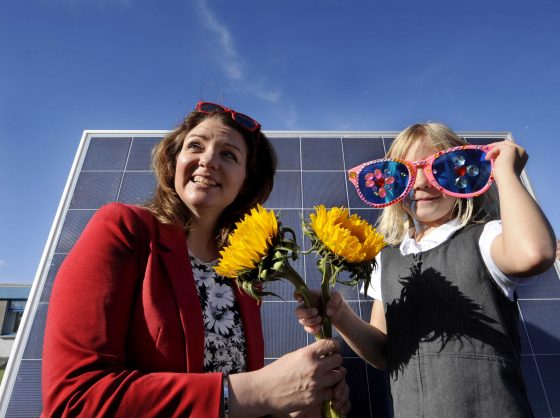 Edinburgh Community Solar Co-op raised a total of £1.5million to install solar panels on up to 25 publicly owned buildings in the city.
The energy generated by the panels will be used by the Council, saving it nearly a thousand tonnes of carbon dioxide every year.  All the profits generated by Edinburgh Solar will be used to help make Edinburgh a greener city.
"We've been delighted by the public response to our share offer, with more money raised than we were aiming for.  This is despite changes in the UK Government's rules which meant we had to close the offer early.  The scheme will get going in the New Year and we expect to put a minimum of £1m back into community energy projects over the lifetime of the project, so that everyone in Edinburgh has a chance to benefit."

Richard Dixon – Chair Edinburgh Community Solar Co-op and Director of Friends of the Earth Scotland