Even as debates rage about the future, there's one thing we all agree on: that the status quo isn't working. There's a growing consensus that we need to change how our economy works so that employees, consumers, and communities receive their fair share of the wealth we create together. 
We're sick of the decisions that affect us being taken by people whose lives and interests are far removed from our own. We want to do business with companies who put their staff and customers first, and who work in the interests of the communities around them. We want services we can be proud of, which put the people who use and work in them at their heart.
'Taking back control' doesn't mean shifting power from one set of politicians to another – it means a radical shift in power to people and communities. It means enabling people from Perth to Penzance to work together to build a better life.
Across the World and across Britain, hundreds of thousands of co-operatives, with billions of members, are showing that there is an alternative. They're living proof that a better way isn't just a dream – and that it works.
And as our country embarks on a new chapter, here's how the Government can use Wednesday's Budget to unleash our country's potential– enabling us to work together to build a fairer, stronger, and hopeful future for all.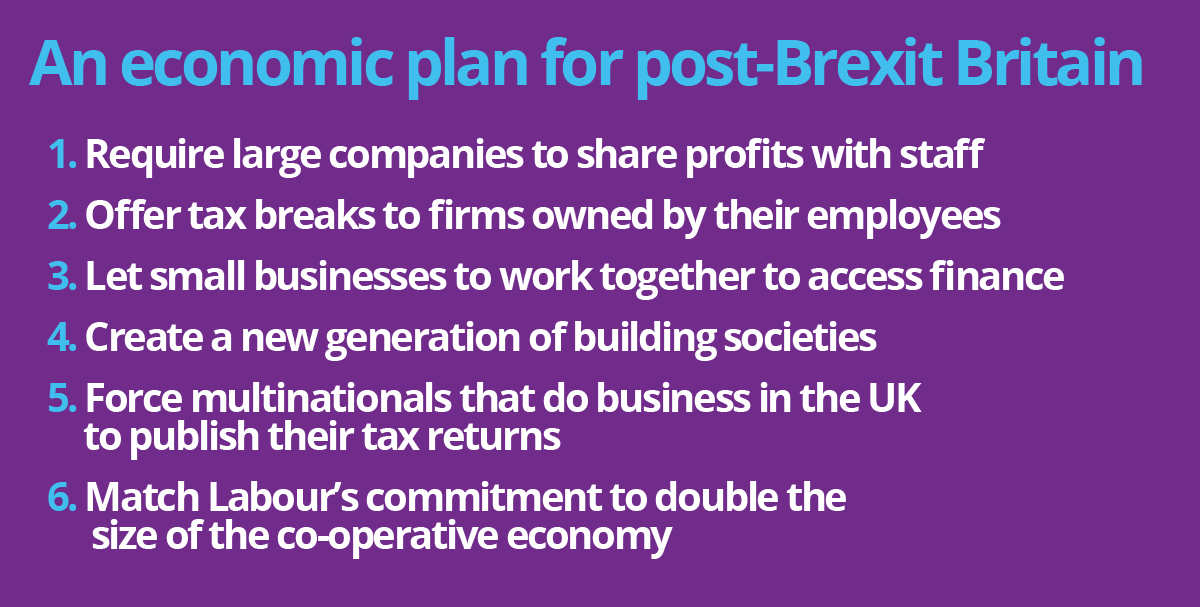 If a business is successful and makes a profit, then its owners should be required to establish profit-sharing schemes to distribute a share of the profits among staff.
2. Offer tax breaks to firms owned by their employees
Employee-owned firms are more resilient and benefit the wider community. The government should reform tax incentives to support firms to become employee-owned.
3. Enable small businesses to work together to access finance
In other countries, small businesses pool risk and help each other access finance through what are called 'mutual guarantee societies'. It's time to remove the legal barriers that stop UK businesses doing the same.
4. Create a more diverse financial sector
Other countries have thousands of banks. But in the UK, just 5 large for-profit banks control 80% of personal accounts. The government should give consumers more choice by encouraging a new generation of mutually-owned building societies and savings banks that are focused on driving long-term investment, rather than short-term dividends.
5. Force multinationals that do business in the UK to publish their tax returns
Consumers have the right to know which businesses pay their fair share, and which shirk their responsibilities. The government must enact Caroline Flint MP's amendment to the 2016 Finance Act, requiring companies to report revenues and tax for all the countries in which they operate.
6. Match Labour's commitment to double the size of the co-operative economy
Labour has pledged that co-operatives will have an important part to play in their future economic plans, and have pledged to work to double the size of the sector. It's time for the government to match the scale of their ambition.