In this, the Co-op Party's centenary year, it's right for our movement to reflect on how far we've come as co-operators and how much change we've brought about. Hidden in our history is a remarkable moment of shared humanitarianism and internationalism. It's a forgotten story of co-operators standing up for civilians fleeing fascism and protecting children scarred by war. And it all started on this day eighty years ago.
In 1937, the spread of fascism and right-wing authoritarian regimes across Europe gripped everybody's attention. Spain was writhing in a civil war fuelled by a dictator backed by Nazi Germany and Mussolini's Italy. While everybody knew that the civil war was brutal, nobody was prepared for the nightmare that was Guernica. Eighty years ago today, German and Italian aircraft circled the skies above the city of Guernica. Within a few short hours, 120 men, women, and children were dead and the rules of war were upended.
Guernica touched a nerve in Britain. British communities that had been raising funds and collecting food, clothes, and medical supplies for innocent victims caught in the crossfire of the Spanish war launched new appeals. In these appeals, the Co-operative Society was to play a leading role, building on the dedicated work of co-operators in their communities.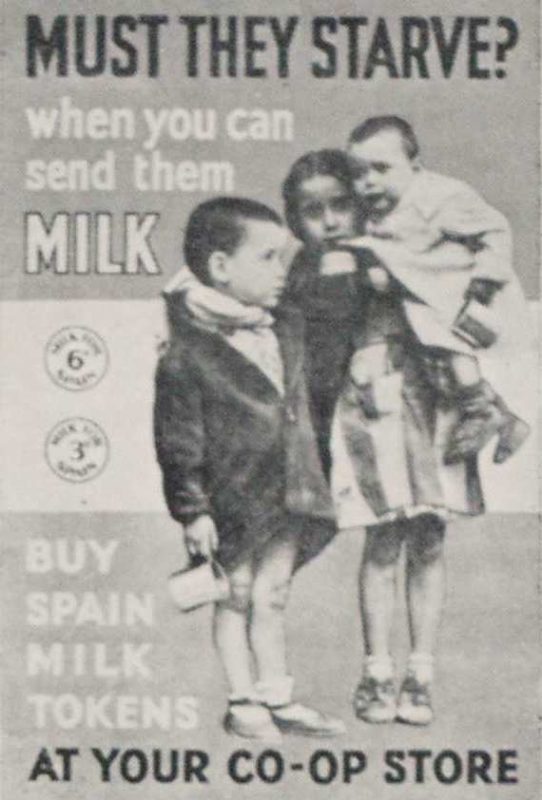 As food grew scarce in Spain, the Co-operative Movement launched one of the biggest aid contributions to date in Britain. The campaign provided life-saving help to all civilians, no matter which side they supported. All that mattered was that the civilians had been pushed into hunger by circumstances beyond their control. Twenty thousand Co-op shops started selling 800,000 'Milk for Spain' tokens, supported by volunteers handing out 1.5m leaflets to shops and homes, workplaces and football grounds. By mid-1938 a second appeal was launched, this time with cheaper tokens on sale to poorer parts of the country, so that the huge desire of working-class communities to help in their own way could be met. Thanks to the simplicity of the scheme, an exceptional sum of £32,000 was raised in total.
As well as launching one of the biggest, most successful aid appeals, co-operators swung into action in Southampton to care for 4,000 Basque refugee children brought to safety in the immediate aftermath of Guernica. With Franco's forces surrounding their homes and German bombers razing their villages, Spain's civilians had realised they had nowhere to go except to the sea. Britain's aid campaigners steadfastly refused to abandon them and began to petition Neville Chamberlain's Home Secretary to admit 4,000 children to safety.
The Home Secretary relented, but his conditions were strict. All evacuees should be aged between five and fifteen, leave Britain as soon as conditions allowed, and make no call on public funds. The War Office would loan tents and field kitchens, but at a financial cost. Facing barriers and feeling let down by their Government, co-operators nonetheless put their concerns to one side and swung into action to bring over the first 2,000 children.
Jack Pavey, the assistant Secretary of Southampton Co-operative Society's Development Committee, led the Southampton Co-operative Society in hurriedly building a campsite for the first 2,000 refugee children. Co-operators persuaded a plumbing trade union to install water systems, carpenters to dig toilets, and farmers to provide fields to house the camps. Leading Co-operator H.C. Cole promptly volunteered his empty mansion as a hospital. In the space of a few hours, Pavey had taken delivery of 200 tents and guided Scouts and YMCA members in putting them up. Co-operators stood ready to hand out Cadbury's and Horlicks donated by the Co-op to ease the 2,000 children into their makeshift camps.
And then, suddenly, the camp received unexpected news. With the situation spiralling in Spain, aid campaigners had refused to take any chances and boarded all 4,000 children on SS Habana to Southampton. Somehow, in the space of two days, the camp grew to accommodate the full complement of 4,000 anxious, sea-sick children.
In Oxford, where I am a councillor, the Co-op led the city's efforts to aid the fight against fascism. A room was given to veteran trade unionist Arthur Exell and his workers to make splints from steel rods for use on battlefields. Exell tells the story of the Co-op coming to his rescue when he needed a workshop to convert second-hand Harley-Davidsons into motorbike ambulances. What Exell didn't know when he sought the Co-op's help was that the idea of converting Harley-Davidsons into motorcycle ambulances had originated with an organisation led by Alfred Barnes MP, the Chairman of the Co-operative Party.
Whether it was Scottish Young Co-operators borrowing lorries to go round housing estates to collect food donations, the Co-operative Women's Guilds collecting milk and food and making clothes, or Co-operatives hosting cultural events for Basque refugee children, co-operators were active in the campaign to help people needing help. As the war drew to its inevitable defeat of the anti-fascist side, women co-operators kept up their campaign to support the Republicans. Facing biting winds, fifty women from Co-operative Guilds picketed the Foreign Office for the week before the war ended.
For the many co-operators who dedicated their time to campaigns and committees, the cause was worthy. Doing whatever they could to relieve suffering felt right. The force of their contributions lay in their practical impact: making sure civilians got essential food, water, shelter, and protection. But it also rested in the real effect they had as symbols of cooperation and the beginnings of a shared resistance to fascism. When so much is so uncertain today, looking to this forgotten history of cooperation could not be more important.